Buying Social Security Timing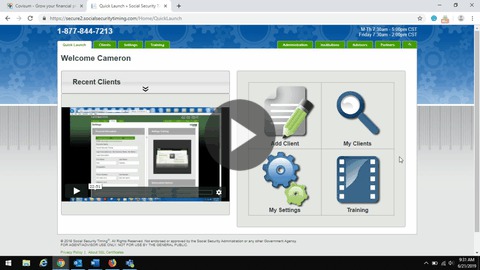 Transcription:
Hi, I'm Cameron from Covisum. Thank you for taking a free trial of Social Security Timing. The software provides insights into unseen opportunity to add dollars to a retirement plan. It's easy to move clients to action- they'll be equipped with the right knowledge to make their next plan decision.
Buying only takes a few moments. Once logged into Social Security Timing, click on the Settings button in the top left-hand corner. From here, you will see the manage account button, click on there. What comes up next is a list of your subscriptions. Find Social Security Timing and click on Buy Now. You will then be brought to the checkout page.
Once on this page, you can select a Monthly or Annual subscription, enter in any coupon codes, and enter in credit card information.