Check out this video.
Transcription:
Hi, this is Cameron from Covisum. Working on a case and have a few questions? Here's a couple of ways you can get in contact with our support team from within our portal. First, click on the "Support" button near the top of the screen then click on "Continue."
This will send your case over to our support team. Keep in mind, in order to successfully send this case, you must click on the "Close" button down at the bottom of the announcement.
You can find our toll-free number,1-877-844-7213, and our hours of operation right down below. Our support team is available Monday-Thursday 7:30 a.m. to 5 p.m. CT | Friday 7:30 a.m. to 2 p.m. CT
The other way that you can get in contact with our support team is by clicking on the chat bubble in the bottom right-hand corner and directly chatting with a support member. They will typically reply within a few minutes.
Thank you and have a great day.
Send a case for review
Login at portal.covisum.com.
Click the support button located in the right-hand corner of the screen.

This announcement will pop up. Click "Continue."

Make sure to hit close to complete the process. At this time, you will call support to speak with a customer representative.

In-App Live Chat
Login to portal.covisum.com.
Look for the blue chat icon in the bottom, right-hand corner.

3. Click the icon to open the chat box.
4. Type your message and hit the paper airplane icon to send.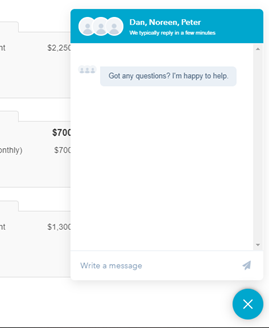 As always feel free to reach out to support by calling 877.844.7213 or emailing help@covisum.com.