Quickly and easily show clients the fees in their portfolio compared to similar holdings with SmartRisk's fee comparison chart.
Compare a Client's Portfolio to Those of Similar Funds
Mutual fund and asset manager expenses will have a direct impact on overall portfolio performance. SmartRisk uses a fee comparison graph to compare a client's portfolio to those of similar funds.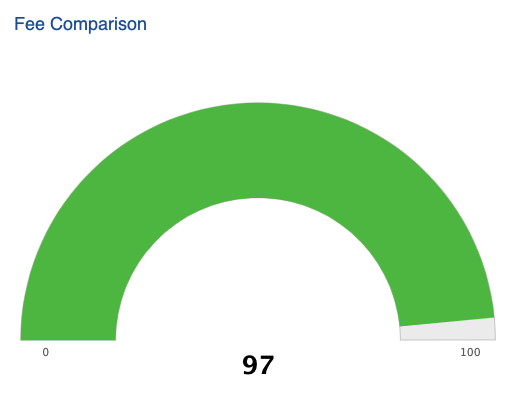 A proprietary cluster is used to identify a classification for each holding and then compared to the universe of other holdings in the class and given a percentile ranking. The weighted average is aggregated into an overall comparison.
Watch a Video Demonstration
In the video below, the fee comparison graph on the left shows 54, suggesting that internal expenses are higher than 46% of similar funds. On the right, in the alternate portfolio, the fee comparison graph displays 91, suggesting internal expenses are lower than 91% of similar funds.
If everything else was equal, the second portfolio would be the optimized choice. The comparison chart feature in SmartRisk helps clients visualize fees and determine if they are in line with similar funds.