Income InSight Quick Start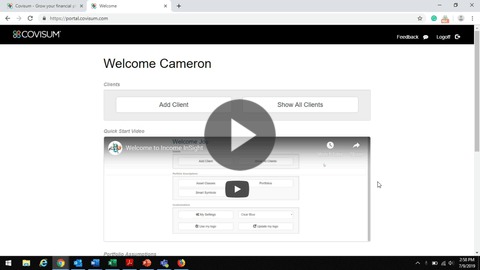 Feel free to watch this Income InSight quick start
video
Once logged into Income InSight:
Select Add Client
Import data via RedTail or enter data manually
Select Start to continue
Enter in your client(s) date of birth (DOB) and life expectancy
Select "done"
Enter all client information where applicable. Note that a red halo surrounding a folder indicates additional information is required.
Select the Income InSight logo in the upper right-hand corner
The financial analysis will be comprised of four charts, as follows:

Account Balances
Income by Source
Income by Result
Rate on Next Dollar

"Stress test" tabs will appear above the graphs toward the right side. Each of these tabs, when selected, will run the analysis with the assumptions listed. A green tab indicates client income levels will last as planned, while a red tab indicates the desired income levels will not last given the selected scenario. These include:

Everything is Fine
Down Market
Client Passes Early
Long Term Care Required

The "plan" tab off to the right of the Income by Source graph provides ten variables to change the base case scenario. They include such basics as refining spending to more complex things like adding a Single Preferred Immediate Annuity (SPIA). Again, when additional assumptions or data are required, a red halo will outline that required field. Ultimately, these variables will allow for the development of an income plan that will last over time.
At the upper right of each graph is a "$" tab. Clicking the tab will provide, in tabular form, the input and assumptions for the respective graph.
The tab with the diagonal arrows will enlarge the respective graph.
The "generate PDF" tab will provide a client deliverable PDF outlining all results, inputs, data and assumptions made regarding the analysis.
Please contact our dedicated support team at 877.844.7213 with any questions.