Tax Clarity Legacy Quick Start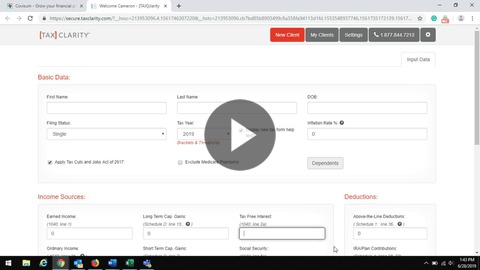 Transcription:
Hi, my name is Cameron from Covisum and today we will be going over how to quickly get started within Tax Clarity.
Once logged in you will be faced with a basic data entry page. At the top you will that New Client is highlighted, if you have any clients that you have previously entered, they can be viewed in the My Clients tab.
Enter in all client date accurately which includes First Name, Last Name, DOB, Filing Status, Tax Year, and Inflation Rate (if applicable). There are also boxes that can be checked or unchecked that includes applying the Tax Cuts and Jobs Act of 2017, Display new tax form help text, and Exclude Medicare Premiums. Enter in any dependents if applicable.
Enter all income sources from the client's 1040. Enter in any schedules (1, A, SE, D). Once all of the data has been entered, click on calculate on the bottom.
You will now see the Tax Map on the next page. You can use this map to identify tax opportunities and view the Base Effective Marginal Rate (EMR). The red bar represents the regular tax brackets and the gray represents the effective marginal tax rate.
Below the Tax Map is a button that says Details. These will give you further information on the inputs and a detailed look of what the Tax Map is showing.
Clicking on the Tax Map itself will pop up with inputs on the side. You can make changes to these inputs to create an alternate scenario. Clicking on Advanced on the bottom will bring up all inputs. Any changes that are made and saved will bring up a Change EMR to the Tax Map and seeing the details below will give a comparison between the Base Case and Scenario One.
Along the top, you can click on Capital Gains to view the Capital Gains Tax Map.
If you have any questions or issues, please contact our support team at 877.844.7213.