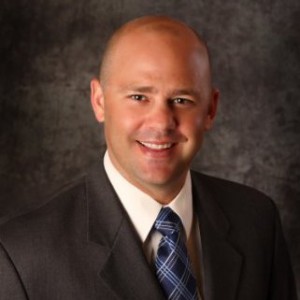 Jeremy Armagost, CFP® RICP® has earned his Master's Degree in Financial Planning from the College for Financial Planning. He has also earned the RICP® designation which is an advanced designation dealing with retirement income planning.
Prior to his financial planning career, after graduating from the Air Force Academy, he spent 10 and a half years as an instructor pilot in the Air Force, flying C-130s. He is currently a Lt. Colonel in the Air Force Reserves, serving as a Liaison Officer for the United States Air Force Academy Admissions program. We wanted to get to know Jeremy a little better, so we asked him some questions.
Q: If you could travel anywhere in the world right now, where would you go?
A: Since I'm in Nebraska and it is particularly cold today – I'll say anywhere there is a beach and 80-degree weather.
Q: How did you get started in the financial industry?
A: My father started in the financial services industry the year I was born. I grew up around it, and I was always interested but never thought about becoming part of it. I moved away for about 15 years with my first career in the Air Force. At that time I was getting married and thought that Kearney, Nebraska would be a great place to raise a family. So I came back and joined my father in his practice. I've enjoyed every minute of it.
Q: What do you like best about the work that you do?
A: I enjoy the problem solving that comes with putting together a financial plan. I also have to be careful that I don't start playing around with new technology (software or other tools). I can start playing around with technology and lose 4-5 hours pretty quick. I love it.
Q: How do you gain the trust of new clients?
A: I find the best way to gain the trust of a new client is to ask questions about them, be interested in them. It's the easiest way to create a full financial plan with them. Spend as much time as you can on why and how they got to where they are. Interview them about their life – don't just ask them to spit out numbers. You can create a better plan that way, too.
Q: How has The Arrow Group impacted your business?
A: For me, The Arrow Group goes all the way back to the Social Insurance Summit. That was when everything clicked for me. It became very clear how important Social Security and Medicare are to retirement planning. For the majority of my clients, getting those decisions right have more impact than anything else I can do for them. I appreciate that other Arrow Group members understand the importance Social Security and Medicare. I know when I interact with other Arrow Group members, they approach retirement planning with the same perspective. It is a powerful combination when a group of like-minded advisors are willing to share ideas and processes.