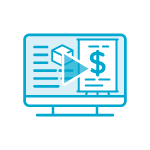 Marketing Materials
Access to professionally created marketing materials: strategy, emails, videos, presentation deck with script, and graphics
Roth Conversion Strategies
Generate specific strategies, with suggested dollar amounts, for completing Roth conversions.
Stress Tests
Test your client's retirement strategy against a down market, an early death, cuts to Social Security benefits, inflation or a long-term care need.
Side-by-Side Comparison
Demonstrate the differences between two different retirement strategies.
Cash Flow Analysis
Drill down into the details and look at annual cash flows.
Incorporate Insurance Products
Show clients the impact of adding SPIAs, deferred annuities, or various insurance products.
Multi-Year Tax Map
Determine which account to draw from, and when, and find key opportunities for converting to a Roth.
Access to Expert Support & Customer Success
Unlimited free access to live support who can help you make the most of your subscription.
Printable PDF Report
Deep Integration with Covisum's Suite of Retirement Income Planning Solutions