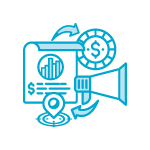 Marketing Materials
Access to professionally created marketing materials: strategy, emails, videos, presentation deck with script, and graphics
Access to Expert Support & Customer Success
Unlimited free access to our live expert support team who can help make the most of your subscription.
Unique Tax Map
Identify tax opportunities. Determine which account to draw from, and when, and find key opportunities for converting to a Roth.
Self-Employment Tax Feature
Calculate the impact of paying both the employee and the employer's share of Social Security and Medicare taxes for self-employed clients.
Pass-Through Tax Feature
Demonstrate the impact of the deduction for pass-through income and the phase-out of the deduction under the 2017 Tax Cuts and Jobs Act.
Saver's Credit Feature
The Saver's Credit has become more important following the passage of the SECURE Act. Demonstrate the impact the Saver's Credit can have on a client's retirement plan
Create Multiple Scenarios
Look at the tax landscape for any given year without creating a new case. Compare different withdrawal strategies on-screen and save and communicate the results with your clients.
Side-by-Side Comparison
Compare alternate tax distribution strategies.
Deep Integration with Income InSight
Seamlessly navigate from multi-year Tax Maps in Income InSight into Tax Clarity for deeper Tax Map analysis of any given year.
CPA Referral Letter
Created by advisors, for advisors, use our CPA referral letter template to build better relationships.
Quick & easy data entry
Printable PDF report