Giving Back to Our Community
The Covisum team spent the morning of Thursday, November 4, volunteering at the Food Bank for the Heartland to help provide emergency and supplemental food to people in need throughout Nebraska and western Iowa. As the largest food bank in the area, the organization distributes food to 600 food pantries, schools, emergency shelters, and other nonprofits.
After learning more about the mission of The Food Bank and having a quick breakfast, the Covisum team packed 574 boxes of nonperishable food items, including canned vegetables, peanut butter, pasta sauce, mac and cheese, and rice. Boxes filled with these items are distributed to people in need throughout the community.
Covisum's Vice President of Sales and Marketing, Katie Godbout, offered her thoughts on Covisum's Community Service Day.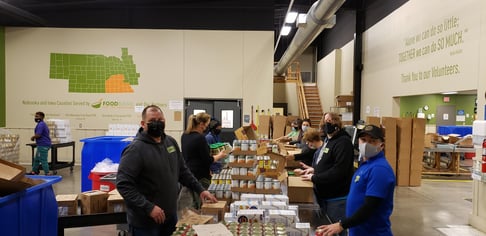 "Food insecurity in America impacts millions of people, thousands in my community—including children who attend school with my kids. Participating in a community service project at our local food bank was meaningful. It's important to donate money to the causes you believe in, but getting your hands dirty and volunteering your time makes an additional rewarding impact. Thank you to the Covisum team who participated and organized this event for our company!"
The annual Community Service Day is just one way Covisum gives back to our community throughout the year. Covisum has participated in American Red Cross blood drives and donated to the Omaha Police Officers Association "Shop with a Cop" event. However, this year's volunteer opportunity at the food bank is significant. Since the start of the Covid-19 pandemic, the Food Bank for the Heartland has seen an overwhelming increase in food insecurity—a trend echoed all around the country. Children especially are struggling without the proper nutrition to grow and learn. Consider donating to your local food bank or another organization like No Kid Hungry. Together, we can make a difference.