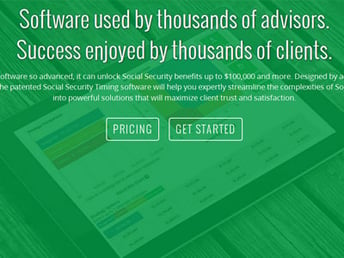 Social Security Timing has refreshed our brand to reflect the value that we bring to our advisors. Subscribers might have already noticed the entirely new look of SocialSecurityTiming.com before logging in to the software — with a simple, bold and modern design that is easily compatible with tablet, laptop or desktop display (Don't worry — our patented software hasn't changed!)
New features of the website and brand refresh include:
New content to support you, as shown on The School page and The Arrow Group page
An even sharper focus on you, the advisor, and your role in Social Security planning
Email support — subscribers can email non-urgent questions to support@covisum.com
No-obligation, free software trial — credit card information is no longer required to receive a free, 10-day trial
The new website does not impact your directory listing or microsite — consumers will still have access to those pages. Consumers would still be able to locate an advisor in their area when searching the Internet for Social Security Timing.
The new look, navigation and messaging reflect our commitment to keeping you on the cutting edge of the technology and the practice of financial planning with a Social Security focus. Expect more website developments to come, as we expand our brand in these areas.