A Closer Look at the 2021 Social Security Trustees Report
On August 30, 2021, the most recent Social Security Trustees Report was released, and we finally have a better idea of the pandemic's impact on the Social Security trust fund. As predicted, the substantial drop in employment, earnings, and interest rates in 2020 made the Social Security program's funding issue worse. All scheduled benefits will be paid on a timely basis from the Old-Age and Survivors Insurance (OASI) trust fund until 2033–one year earlier than the date outlined in last year's report. Once the reserves are depleted, income from taxes will allow the Social Security program to pay 76 percent of scheduled benefits.
Updates to Social Security Timing®
Covisum recently added a benefit cut calculator to Social Security Timing that allows advisors to show clients the impact of a cut to Social Security benefits. The feature has been updated to reflect the new predictions from the Social Security Trustees. The year 2033 is now displayed as the default.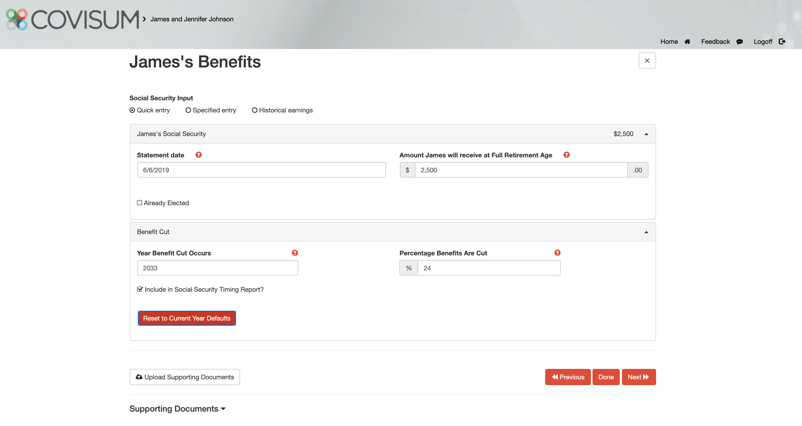 You can try it out for free. Start your 10-day free trial of Social Security Timing.
On-Demand Webinar
Looking for additional guidance on the report? Check out Covisum® Founder and President, Joe Elsasser, CFP®, in this free 30-minute, on-demand webinar, Unpacking the Latest Social Security Trustees Report: What Financial Advisors Should Know to Grow.
Discover the key takeaways you need from the nearly 300-page Social Security Trustees report.
Hear what changes to Social Security may be on the horizon.
Learn how to talk with clients about opportunities to optimize their Social Security benefit claiming strategy.
See how to show clients the impact of Social Security benefits on their retirement income strategy.