Covisum offers more than just software. We've developed a process that involves training and support to set you up for success. We believe in improving lives through better financial decisions. We provide a AAA experience through awesome support, actionable client reports, and aligned interests. And we've got a proven process to help our customers succeed. Want to join a winning solution? Here's how it works: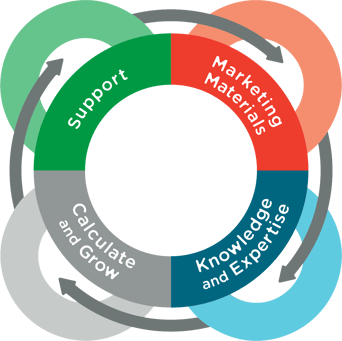 1. Start free trial
➞ Complete "Getting Started Guide"
➞ Scheduled training with support
➞ Generate actionable reports
2. Become a subscriber

➞ Set up profile
➞ Introduction to resources
➞ Initial marketing discussion
➞ Access to expert support team
3. Ongoing support
➞ Client case reviews
➞ Assistance with subject matter questions
4. Communicating to your target market
➞ Microsites
➞ Client brochures
➞ Branded reports
➞ Seminar presentations
5. Grow your knowledge and expertise
➞ Webinars
➞ Online content and resources
➞ Covisum's The School
6. Bring together retirement strategies
➞ Social Security Timing
➞ Tax Clarity
➞ SmartRisk
Don't take our word for it. Listen to our happy customers. Want to know more? Contact us today and let us know how we can help you succeed.