Retirement income planning is a niche market, and to provide strategic advice for your clients, you need a tech stack built with retirees in mind.
The right fintech stack will emphasize the value you bring to the table. Choosing solutions that provide an outstanding client experience while making the complex parts of your job easier is a great way to showcase your expertise.
To ensure your tech stack will provide the tools you need to solve problems, build trust, and simplify complex retirement income strategies, look for tech solutions with features that do the heavy lifting for you.
6 Capabilities Every Retirement Income Planning Fintech Stack Needs
1. Automated calculations
Digital transformation has impacted every industry, and retirement income planning is no exception. As automation replaces manual number-crunching and spreadsheets, it's doing more for financial advisors than just saving time and minimizing human error.
Integrated financial planning software allows advisors to enter clients' information once and then use that data for calculations across disparate systems. This makes it easy to update assumptions across all retirement income strategies, resolve conflicts, and provide almost instant feedback about the impact of changes.
2. Tax mapping
The tax landscape is complex. Using software with tax-mapping capabilities will help you show your clients how to make the most tax-efficient decisions and protect their retirement income.
For example, Covisum's Tax Clarity® and Income InSight® work together seamlessly to create a comprehensive Tax Map analysis that identifies tax opportunities and potential pitfalls (like tax torpedoes), calculates clients' effective marginal tax rates, and finds key opportunities for Roth conversions.
3. Stress tests
The past few years have taught us to expect the unexpected. Adding stress testing to your fintech stack allows you to answer some of your clients' "what if" questions with accurate data projections and put them at ease.
Currently, record-high inflation is top of mind for many retirees. Stress tests let you check a client's retirement strategy against inflation and other potential economic stressors, such as a down market, early death, Social Security benefit cuts, and long-term care needs.
4. Optimized retirement income withdrawal strategies
With more retirees test-driving DIY retirement income planning tools, adding the ability to optimize withdrawal strategies to your tech stack is one of the most impactful ways to showcase the value of working with a financial advisor.
Professional-grade retirement income planning software enables advisors to create an extensible view of the client's strategy to help them determine which account to draw from and when.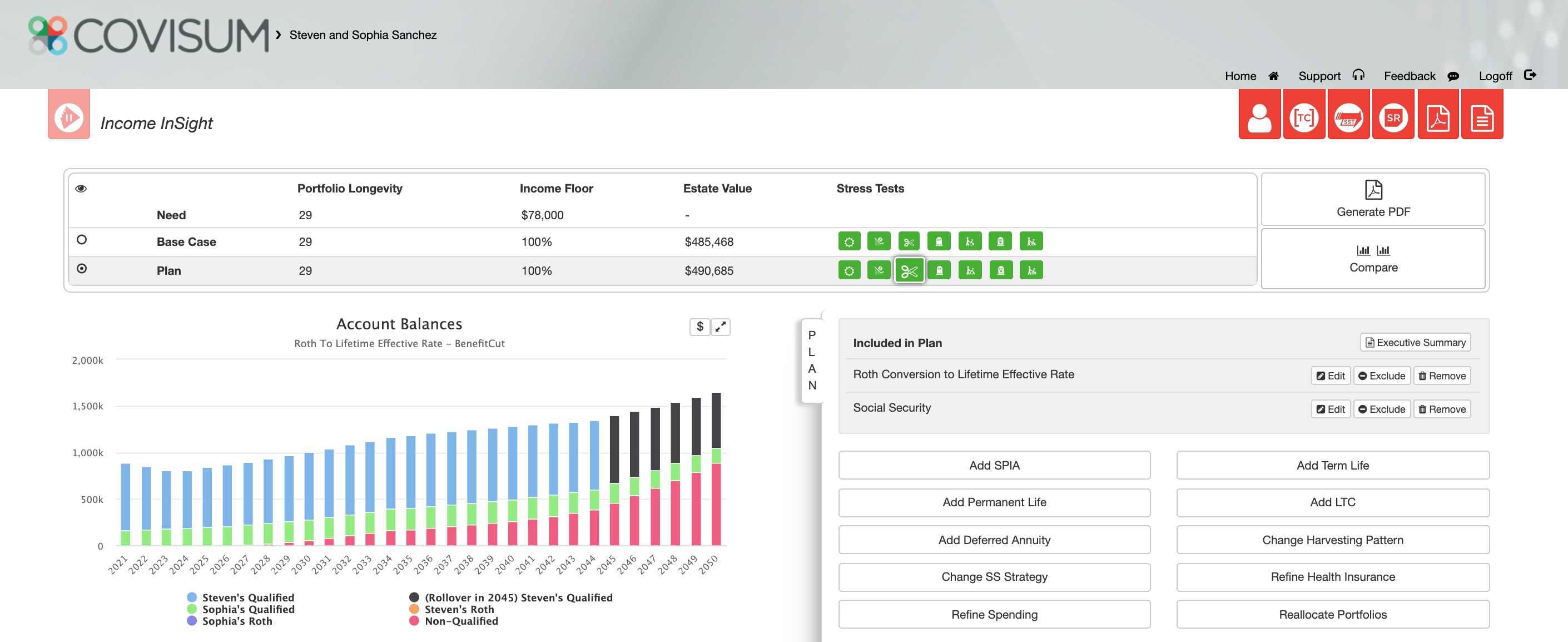 Software that updates assumptions across strategies in real time makes it easy to create alternate strategies and strategy comparisons that pinpoint the optimal timing for tax distribution, withdrawals, and Social Security claims.
5. Data visualization
Explaining complex concepts like effective marginal tax rates and optimized Social Security claiming strategies is easier with client-friendly visualizations.
A fintech solution that presents data in an easy-to-understand visual format lets advisors use graphical data representations to illustrate strategy optimization opportunities and how changes and alternate scenarios will impact taxes and withdrawal strategies.
6. Expert support for world-class tech
In today's highly connected business environments, every solution in your fintech stack should provide readily accessible support and resources to answer questions and troubleshoot technical issues.
Covisum offers multichannel client support to meet you where you are, including:
Live on the phone
Live via chat
Email
Covisum's Retirement Income Planning Solutions Add Value to Your Fintech Stack
Built by advisors for advisors, Covisum has a deep understanding of how to create fintech solutions that provide quantifiable value to your prospects and clients.
The Covisum suite of retirement income planning software is designed modularly so financial advisors can use each solution independently. Use the entire stack for comprehensive retirement income planning.
Income InSight® quickly and easily shows the impact of different decisions within a client's financial plan.
Tax Clarity® helps you show clients how to make retirement decisions in the most tax-efficient way.
Social Security Timing® helps optimize your clients' Social Security claiming decisions and increase their retirement value by up to $100,000.
SmartRiskTM lets advisors analyze portfolio risk and easily communicate with clients to help them avoid costly mistakes.

Which Covisum software is right for your practice? Use our Product Matchmaker tool to align your goals with the right Covisum solution(s) to maximize your value to clients.