Results from a recent Harris Poll from the Nationwide Retirement Institute® suggest many Americans nearing retirement age lack sufficient understanding of their Social Security benefits.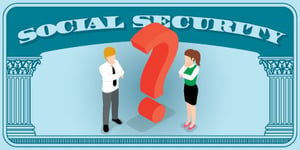 InvestmentNews summarized the survey results.
Some of the key findings:
88% of respondents did not know what factors determine the maximum Social Security benefits an individual can receive.
More than 40% of future retirees do not expect to spend any of their Social Security income on health care, but 58% of current retirees report using Social Security to pay for health care costs.
More than half of the respondents who have not filed for Social Security report that they plan to wait until age 66 to claim their benefits. However, most current retirees claimed benefits at the age of 62. Many claimed their benefits as early as possible because of unforeseen circumstances like bad health or layoffs.
Future retirees anticipate receiving a monthly benefit of $1,628 on average, however the current average is actually $1,257 per month.
Social Security was cited as the primary source of income for more than half of the respondents.
Perhaps the most important finding from the survey is that only 13% of older adults say they have an advisor who provides them with Social Security advice. However, 72% of individuals who are currently working with an advisor said they would likely switch advisors to work with one who can help them navigate their Social Security benefits and maximize the amount they receive.
This is crucial information for advisors who use Social Security planning tools like Social Security Timing. Americans nearing retirement want and need an advisor who is equipped with the right knowledge to help make their next plan decision and navigate the complexities of Social Security benefits claiming.