Financial advisors from all over the country rallied in Omaha, Nebraska, April 4 and 5 at the Embassy Suites by Hilton Omaha Downtown Old Market.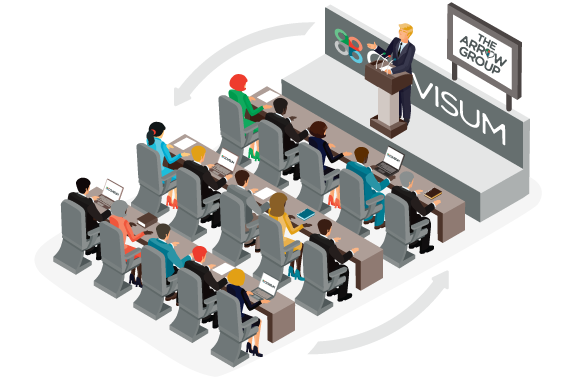 Joe Elsasser, CFP®, founder and president of Covisum, started the event with exciting updates from Covisum. In the first session, members broke into accountability groups for a team-building activity featuring the Johari Window.
Group members leverage each other's knowledge and experience to enhance their business practices," Joe said. "Getting to know each other in person, through networking, and through team-building activities will make it easier to help each other improve areas that are unknown to us."
The next session was presented by Katie Godbout, Covisum's director of sales and marketing.
"I've found that the best way to achieve a goal, especially a big goal, is to start by clearly defining it," Katie said.
Members took a high-level look at business and marketing strategy, followed by a workshop to build target-audience personas, a marketing plan, and key messages that they put to use at the end of day two when they recorded videos that will be edited and provided for marketing use.
"A well-crafted message will highlight your unique benefits, target your audience, support your goal and often include a call-to-action," Katie said. "With repeated use, key messages serve as the foundation of your branding and marketing efforts. They should be reflected in all written and spoken communications."
After the workshop, attendees gathered at Covisum's headquarters for a reception. They were joined by the entire Covisum staff and enjoyed appetizers and drinks while networking. Ollie the Trolly brought attendees back downtown for a delicious meal and more networking at Upstream Brewery.
On Wednesday, attendees dug into retirement decisions as Social Security evolves with Keith McCullough, Covisum's enterprise support specialist. Next, Joe presented practical uses for Tax Clarity. White Glove Workshops, the event sponsor, shared a brief presentation before lunch.
"Hopefully, everyone is taking advantage of the microsites that are provided to you through the software," Keith said. "It provides an opportunity for you to generate qualified leads and grow your business."
A few members of the group mentioned that they have embedded the microsite content on their website so that their prospects can find it without having to link to it. This was a great idea that other members were interested in integrating into their practice as well.
After lunch, members reconvened for a session, "How to discuss risk with your clients: the quant and the advisor." In this session, Joe and Ron Piccinini, Ph.D., discussed different portfolio risk scenarios and the impact that different financial decisions could have on retirement. Attendees were privy to a unique perspective from both the quantitative and the client-facing sides.
"We're going to spend the next 40 minutes diving deep into the mathematics," Joe joked.
Ron walked the group through the proper way to measure and communicate portfolio risk.
The improbable, but high-impact event often has the most significant impact on success or failure," he said.
Near the end of the day, Joe brought it all together in a session about maximizing value through robust income planning.
The group finished out the meeting recording their marketing videos and participating in a moderated discussion, where members and presenters discussed ways to grow and improve business, sharing ideas and best practices.