We're looking forward to a new year in a new space!

As we look back at 2016, a lot has changed. In January, we launched Covisum, which means "shared vision" and represents our commitment to help our advisors and their clients make better retirement decisions. This new company formed out of the success of Social Security Timing®, which has grown to support thousands of advisors all across the nation. In the spring, we rolled out a new product, Tax Clarity™, which is already making an impact for many advisors.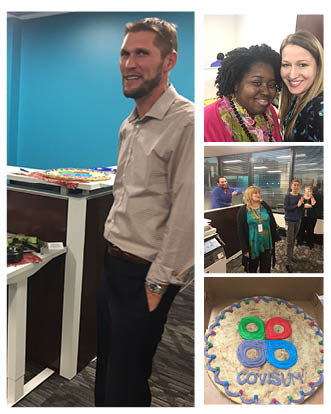 Our team has grown, and we are dedicated to continuing to develop the software and provide the support that you need to deliver the smartest and most effective retirement advice to your clients.
Additionally, the Covisum team recently moved to a new space. We're still happily working away in Omaha, Nebraska, but we now occupy Suite 109 at 8420 W. Dodge Rd. This space was strategically built to provide an empowering atmosphere for employees to engage in their roles independently as well as interact with teammates.
"I wanted to tackle the biggest issues and challenges that financial advisors are having — and that's how this whole thing started," said Covisum's president, Joe Elsasser. "I just got real sick of our industry being oriented around selling product instead of finding the best retirement solutions."
"There are advisors around the country who use our tools to answer hundreds of thousands of people's questions. Over the last seven years we've really grown, and now we have this awesome space that's the hub for all of it — that's just really, really cool."
Come and visit us! We'd be glad to have you. And if you're a member of The Arrow Group, we'll give you a personal tour at our spring meeting, April 4–5!