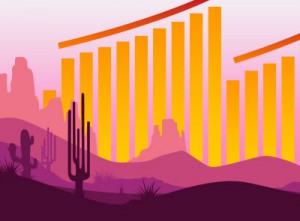 Financial advisors from across the country gathered in Reno, Nevada, Oct. 20 and 21 at Atlantis Casino Resort and Spa. The summit featured intensive training sessions on the next generation of Covisum™ tools and how to add quantifiable value to client lives, ultimately growing The Arrow Group member's businesses.
Joe Elsasser, president of Covisum and creator of Social Security Timing®, kicked off the event with the unveiling of Social Security Timing 3.0. Members of The Arrow Group received pre-beta access to this newest version of the Social Security claiming software. As additional features are added, they will be showcased during Covisum's monthly webinars. Covisum will roll out full access for all subscribers prior to the release of the new Department of Labor rules in early 2017.
In the next session, The Arrow Group members took a deep dive into Covisum's new Tax Clarity™ software. This program adds value by providing a starting point for discussions of tax efficient savings and distribution of retirement assets in the form of a Tax Map.
"We call it a Tax Map because it illustrates the rate at which each additional dollar of ordinary income would be taxed," Elsasser said. "At the end of the day, one additional dollar on the tax return can cause more than one dollar to be added to taxable income."
Following the session on Tax Clarity, Covisum rolled out its newest software — a robust income planning tool. The new income planning tool is built on top of Tax Clarity and automatically navigates the tax landscape to deliver tax alpha effectively, keeping the client's goals at the forefront.
"Think of retirement as a series of 30 to 40 Tax Maps all stacked on top of each other," Elsasser said. "The new income planning tool uses these calculations to provide holistic insight into an individual's retirement income distribution."
Covisum's newest suite of tools helps advisors facilitate better retirement decisions. Social Security Timing, Tax Clarity and the income planning tool simplify complicated pieces of retirement planning.
When making retirement income decisions, Covisum advises not to choose efficiency first. The first step is to select a goal, then navigate the most efficient path. Consider this example: a smart car is very fuel-efficient, but if the goal is to pull a 30-foot motorboat from your storage facility to the river, is it the best choice? No. Although, it is efficient, it's also incapable of achieving the goal. This same thinking can be applied to retirement decisions.
Following each software session, Covisum solicited feedback from attendees.
"Tax Clarity greatly simplified my life! Before, I had to use three to five software programs to do the job. Tax Clarity took away the problem of having to run iterations over and over again, and now I only need one tool," said Arrow Group Member, Ryan Jensen.
"The Arrow Group members were able to see first-hand how the upgraded software adds value to their businesses, saving them time and effort while helping their clients maximize their retirement benefits," said Keith McCullough, Covisum support team lead.
At the completion of the event, advisors left with their top three priorities to implement. They will share their progress in monthly accountability meetings. Focused action and small changes to an advisor's business can make a large, positive impact on the course of business. Covisum wins when our customers win — we have aligned interests and our success depends on the success of our clients.