We Are Dedicated to Providing Awesome Support
Covisum wants to make it easy for our customers to find the information you need. We want to help you spend less time looking for answers and more time growing your business or doing the things you enjoy.
Do you have questions about a case?
Our expert support team is on call for free trial and paid subscribers during business hours. Call them directly at 877.842.7213 to ask questions about a case you've entered into any of your Covisum software: Social Security Timing®, Tax Clarity®, SmartRisk™, or Income InSight®. Think of them as an extension of your team who can help you with subject matter or software questions. They are available Monday through Thursday from 7:30 a.m. to 5 p.m. and Friday from 7:30 a.m. to 2 p.m. Central Time.
Don't feel like talking?
If you are looking for answers outside of business hours, or you simply prefer not to speak with a real, live person, you can check out our customer help center. The Covisum team has built a library of help articles and documentation so that you can help yourself to answers to our most frequently asked questions.

We've organized our help center into several categories:
At the bottom of each article we ask you a simple question: Was this article helpful? Yes or No. Answering this quick question will help us improve over time, ensuring that the information and documentation we are providing is what you are looking for. If you don't find an answer for the question you are looking for, you can either call our support team or submit our Contact Us form and we'll get back to you.
SupportBot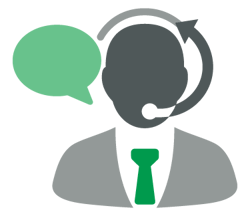 Another way to get help is from our SupportBot. You'll find this robot on each of our product landing pages. SupportBot will greet you and ask you if you have a free trial or paid subscription. This information helps our live support team if you end up needing additional help. Regardless of how you respond, SupportBot will request that you describe how we can help you. Just type in your question, and SupportBot will search our help center articles and provide the best match we can find.
Watch me interact with SupportBot in this quick demo: