Social Media... Not Just for Millennials
If you use financial planning seminars to attract new prospects, social media marketing and advertising can be an effective tool to help you take those seminars online, promote your event and help your firm grow.
Social media can positively impact your growth in many ways. Beyond simply providing search visibility for your business, offering educational content through your social media accounts can enhance your digital presence and help you reach more prospective clients.
For the average advisor, pre-retirees, or those who have already retired, are typically the target client. In my opinion, there's no better way to reach these people than through social media.
Here's why.
Aside from the controversy it's found itself in because of its involvement in spreading "fake news," Facebook is still possibly the most powerful social media platform on Earth.
Who's on Facebook?
Once the social network exclusively built for college students, Facebook has aged upwards as it has opened its platform. It's now the place where grandparents go to check in with their grandkids, share cooking recipes, and get local news. According to recent statistics, more than a third of Facebook's users are older than 45 years old.
Even more surprising is that the number of American Facebook users who are over 65 has doubled over the last seven years.
When creating your digital communications strategy, you want to be sure you're speaking to people who are receptive to your message. And if you are using social media as part of that strategy, you want to be where those people are.
Given its high usage among people who can be considered pre-retirees or in retirement age, Facebook can be a natural place for your advisory firm to put your attention.
In the next section, we'll look at exactly how easy it can be to use Facebook to create an ad and reach the people who need to hear from you most.
A Few Best Practices to Consider
If you're stuck on what content to create for an ad, one of the fastest ways to get started may be to host a webinar.
In days past, your firm might hold a financial planning seminar for interested prospects or friends of current clients. You'd all sit around, chat, and you'd explain the kind of services you provide.
Hosting a webinar is the modern equivalent, except you don't need to rent a conference room, buy anyone dinner, or carve out an entire evening of your time.
If you do host a webinar, make the topic interesting, relevant, and educational.
You don't want to talk about your services for 30 minutes; instead, discuss a relevant problem your clients might face, like when it's a good idea to delay taking Social Security benefits, and provide possible solutions so they can leave the time feeling more informed. If they recognize that they need assistance, provide a clear way for them to reach out to you.
Once you've settled on the content you can offer, creating ads can be simple. Here are a few best practices for creating a social ad.
Get on Camera
Growth of online video is exploding and you should use it to your advantage. Even if it's just you and your smartphone in your office, recording yourself talking about a topic can give you an edge compared to text-only ads. There's even research that suggests people gaze at video five times longer than static posts, so you have more time to catch and keep attention.
Be Visual
Video, of course, is visual. But if you aren't comfortable stepping in front of the camera then be sure to include an image as part of your ad as another way to stand out in the news feed. If no one in your office is design-savvy, you can always hire out for a quick project, or do it yourself with a site like Canva.
Ask for Action
Be clear about what you want viewers to do when they see your ad. If you want them to register for a webinar, say it and write it! Leave no ambiguity about the action someone should take once they've seen your message.
Follow Up
There's more to the entire process than setting up those ads and hosting a financial planning seminar. Following up with prospective clients should be a natural part of the process, but too often it gets pushed to the side as client demands and internal issues come up. Use your email campaign management software to automate aspects of your follow up with webinar attendees and keep the conversation going.
In the next section, we'll look at a quick way to get your ad up and running.
Setting Up a Facebook Ad
Now let's take a quick look at setting up an ad in Facebook. There are multiple ways to set up an ad, but we'll look at the fastest way to get started. From your company page, click Ad Center from the top menu, and then select Create Ad. You're now in the quick ad creation workflow. First, choose your objective:
Boost a Post

Promote Your Send Message Button

Promote Your Page

Get More Website Visitors

Get More Leads
For our example, we'll go with "Get More Website Visitors."The next screen shows you all the settings you need to adjust before your ad can run:
URL - Choose the web page viewers will see when they click your ad (if you're running a webinar, this should be the event sign-up page)

Format - Choose between images or a video

Headline, Text, Call to Action - Briefly explain what you're offering (e.g. a webinar on college planning)

Audience - This is where the magic happens. You can target who sees your ad by age, work history, marital status, city, and more

Budget - Select how much you want to spend and how long you want your ad to run
Facebook shows you previews of your ad across mobile, desktop, Instagram, and more on the right side of the ad setup screen so you have a live view of what you'll see once you finish your settings.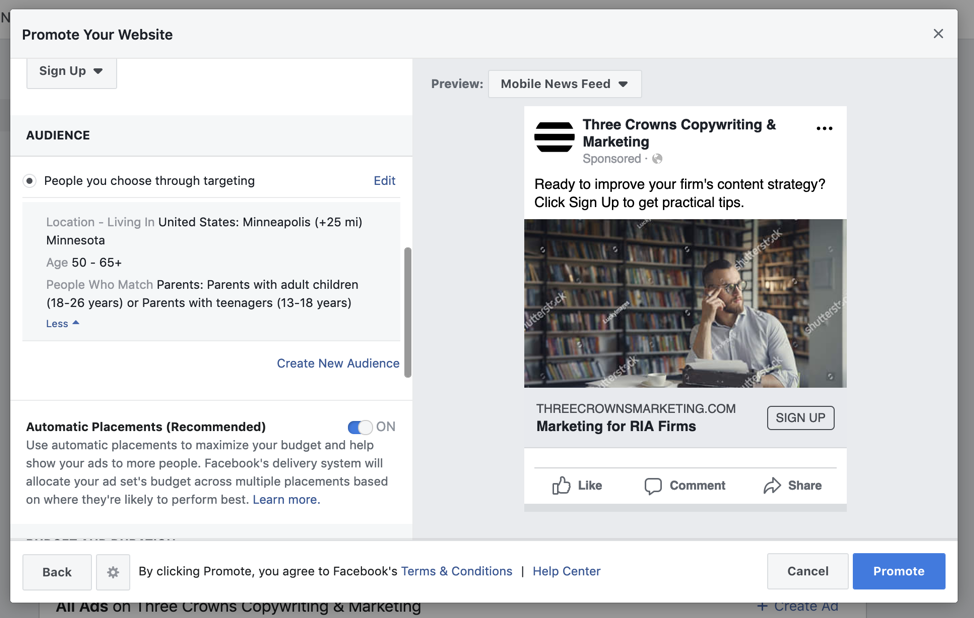 Once you're done toggling settings, click Promote to get your ad up and running. From start to finish, you can set up your ad in less than five minutes.
Whenever you create marketing communications for your firm, remember to always begin with your audience first. Focus on what's important to them, and how you can provide value that will help them solve a problem in their life.
Understanding your audience is the first rule of content marketing.
If you'd like to learn more about how to help your firm's website be a more productive part of your sales process, click here to download The ABCs of Content Marketing to read about the foundations of an effective digital marketing strategy.
Want to learn more about marketing your practice from Covisum? Check out our resources here.