Is your business thriving? The 2018 FA Insight Study recently published by TD Ameritrade Institutional states that firms with a specific target market are achieving greater rates of growth and profitability than their peers — the median operating profit margin was 18% greater and the median annual client growth was 35% greater. Are you attracting the right prospects and enchanting them by meeting their every expectation?
That's a tall order for most, if not all businesses. In these swiftly changing times, people's expectations are changing too. We can thank technology for that. Think about it — the World Wide Web was invented in 1989. Little did we know that nearly three decades later it would "be normal" to have a digital assistant with us at all times.
Take a peek into my life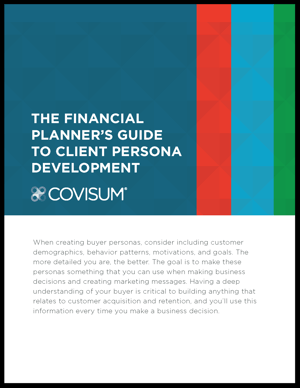 Every morning while getting ready, I check in. "Alexa, what's going on today?" Immediately, news from my preferred sources is recited to me.
When traffic looks a little slow, I simply push a button and say, "Navigate to work," and the fastest route, accommodating any construction or accidents, is now being relayed to me by Nigel.
At any time during the day, I can ask Alexa to turn on my lights, change the temperature in my house, add things to my grocery list and start my robot vacuum — we lovingly call him Ted.
I can see who is on my front porch or driving past my house at any time of the day or night.
I conduct "face-to-face" business with colleagues and vendors in the United Kingdom and New Zealand without having to leave my desk or pay for a long-distance call.
At night before bed, I can ask Alexa to help me relax by streaming the sound of rolling thunder from a relaxation app.
In the '90s, I never imagined my world would be like this.
Technology is changing
It's ironic that even though technology is changing, and the pace at which it evolves is speeding up, some basic things about the world we live in remain true, especially when it comes to building a successful business of any size.
Recently, we published a white paper written by Joe Elsasser, CFP® and president of Covisum, "The Tailored Fit: How Advisors Can Use Technology to Mass-Customize Financial Planning."
Early in the paper, Joe explains how a business can thrive through changing times and uses Men's Wearhouse as an example. It's as easy as one, two, three.
Choose a niche
Define how you serve the niche better than anyone else
Focus your message on the emotional outcome
Easier said than done, right? But, the research shows it's worth it. Choosing a niche leads to greater efficiencies in servicing and marketing, which in turn reduces costs and boosts growth. Let me help you conquer these three steps. Check out, "The Financial Planner's Guide to Client Persona Development" for free. You'll get the exact information you need to clearly define your niche and be on your way to establishing how you can serve them better than anyone else.
You know you can count on us for strategic marketing advice. In an upcoming blog post, I'll dive in to how to focus your message for success. So if you haven't already subscribed to receive updates, subscribe now.