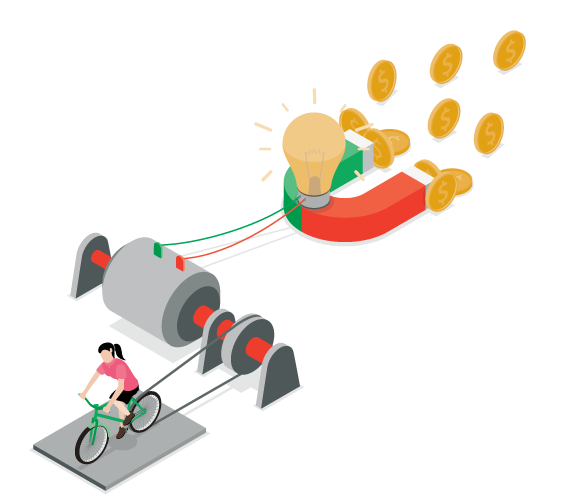 A new study reveals that although women are taking control of household finances, they're unprepared to meet long-term financial goals and are not seeking financial planning advice.
Prudential's 2014-2015 research study, "Financial Experience & Behaviors Among Women," is just the latest to build the case for why financial advisors should market to women.
Women want and need financial and retirement planning advice, and financial advisors can grow their practices by marketing to them and successfully serving them. Understanding the market opportunity and how to address it could make an important impact in not only the lives of these women but also your business.
Why focus on women?
More women are in the position to make financial decisions. Nearly 44% of women are the primary breadwinners in their household, according to the Prudential study. Among those women, 65% say they take the lead role in financial and retirement planning.
But women's confidence in meeting long-term and retirement goals wavers. Topping their list of financial goals are having enough money to maintain their lifestyle throughout retirement, cover health care expenses and reduce personal debt, and not becoming a financial burden to loved ones. But only 33% of women feel they are on-track or ahead-of-schedule in planning and saving for retirement.
A new study from life insurer Allianz echoes this lack of confidence, with 61% of women wishing they had more confidence in their financial decision-making and 63% wishing they knew more about financial planning and investing.
But only 31% are now using a financial professional, down from 48% in 2008, according to the Prudential study.
So, taking all of these statistics together, you begin to see the opportunity: more women are the breadwinners, making the household decisions, but not doing so with confidence and not seeking advice from people who could help them — you!
Now, consider these two trends:
Imagine how marketing to and better serving women could impact your practice. You could increase your assets under management and reap more than twice as many referrals.
How to tailor retirement planning services to women
Articles abound with tips on how to market to women, and specifically, how financial advisors can tailor their services to women. Three common tips seem to rise to the top of nearly all the lists:
1. Don't stereotype or talk down to women.
Lumping women together or stereotyping can be dangerous. If they come to a meeting with their spouses, don't make the car salesmen blunder of speaking to the husband as if he's the one making the decision, for example.
Heather Ettinger, managing partner at Fairport Asset Management in Cleveland, Ohio, and co-author of several reports on women, manages $1.2 billion and offered this advice in Financial Advisor IQ:
"This is not a homogeneous group. What a widow needs, what a primary breadwinner needs, what a trailing spouse needs and what a divorced woman need are all different. You have to understand what's unique about each woman."
2. Take an educational, collaborative approach.
Women are looking for an educator, according to Fidelity's 2015 "Money Fit Women's Study." They want someone to explain the sometimes complicated investment world without making them feel stupid. Avoid "talking at" female prospects and instead focus on asking questions and listening carefully. Women prefer active dialogue in an environment in which they feel comfortable asking questions. And of wealthy female investors, 90% felt their planner should fully explain financial concepts and proactively advise them on decision-making, according to research by OppenheimerFunds.
3. Be engaged.
The financial services industry has been rated the worst industry in serving women, according to The Harvard Business Review. As reported in ThinkAdvisor, more than 90% of women expressed an overwhelming unhappiness with the financial services they've received, saying their advisor is unsympathetic and detached when it comes to understanding their needs. The article goes on to suggest these remedies: clear your schedule so the client gets 100% of your attention, keep eye contact and listen, and save financial advice until after they're expressed their wants, needs and fears.
How Covisum can help you reach more women clients
As the financial planning industry's eyes are opened to its deficits in serving female clients and to the opportunity, more financial advisory firms are making the effort to market to women. So it's even more important that you find a way to distinguish yourself this ripe market.
According to a Country Financial study that looked at the financial categories men and women seek advice for, the category women are most likely to seek out advice for is retirement planning — 37% of respondents admitted asking for help. Next in line was tax-related matters, at 33.9%.
Those statistics and Covisum's proven success with using Social Security as a gateway to the retirement planning discussion illustrate an even greater opportunity for advisors who specialize in Social Security claiming advice. With women's second choice for advice being tax-related matters, you can see how offering both Social Security and tax-efficient withdrawal strategies could add even more value when marketed to women appropriately.
Covisum's Social Security Timing® and Tax Clarity™ can help you rise above the marketing noise that women are sure to be bombarded with in the coming years, as more financial advisory firms recognize this opportunity. Because few advisors specialize in these areas, offering Social Security claiming and tax-efficiency advice could be the distinguishing factors that help you earn this desired demographic's trust.
Plus, women have unique circumstances that make it more important to educate them earlier on retirement planning issues, and one is Social Security. Women tend to live longer than men, so they could spend 70% of their Social Security benefits on health care costs, according to InvestmentNews. Claiming early — which 80% of retired women do — can be a costly mistake that locks in a lifetime of lower income, according to a Harris Poll mentioned in the InvestmentNews article.
The gender pay gap is another issue. Women still earn less than men do for similar work — for full-time year-round workers, women earned 74% of what men earned in 2014 and 2017, according to U.S. Census data.
Additionally, women's salaries peak earlier in their careers, they retire with less money than men, yet they need to support themselves for longer.
When you consider all of these factors, you can clearly see the need to educate women earlier than you might typically market to men.
Because, as we pointed out earlier, surveys show that women like working with someone who is educating them, Social Security can be the educational topic that starts the retirement planning discussion. By educating them on costly Social Security mistakes they could make, you demonstrate the value you can add to their long-term planning goals, and you begin to earn their trust and build the type of relationship that female investors find so important.
When you subscribe to Social Security Timing, you also get access to an educational Social Security seminar that can be presented at local libraries or community centers. One advisor tripled his client responses by using the seminar.
The Social Security Timing software easily helps you identify the best Social Security claiming strategies. Tax Clarity shows clients dangerous points when nontaxable retirement income may become taxable. Together, they are powerful tools that will help you attract more female clients and better serve your existing ones.