Covisum recently hosted an employee celebration event to mark the successful launch of Income InSight®. This new financial planning platform deeply integrates with multiple tools to provide a clear view of retirement for clients. At the event, Founder and President, Joe Elsasser, CFP® presented the first-annual Covisum President's Awards.
The Yoda Award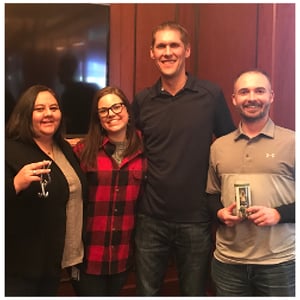 The Yoda Award is presented to an individual who acts as a mentor. Yoda is small in stature but capable of defeating formidable opponents. Even so, his energy is better spent on teaching others. This year's Yoda Award was presented to Chris Whitehill, Covisum's Director of Development.
"It takes an ability to see at a high level and recognition what people need in order to grow. Chris brought the dev-ops mentality to our organization and we're seeing smoother production pushes, better visibility and more engagement due to his efforts," said Elsasser.
The Connector Award
The Connector Award is presented to someone who links together multiple areas of the business – either from a people or systems perspective. This year's Connector Award was presented to Jackie Kleckner, Executive Assistant.
"There are hundreds of things she's done from making sure meetings run smoothly to conference logistics to picking up the phone and backing up our support team when they are in meetings to planning employee activities," said Elsasser, "I know that Jackie makes it all happen and it feels seamless, even though I know it takes a lot of work."
The "Git-R-Done" Award
The "Git-R-Done" Award is presented to a team member who sets the bar high and then achieves big goals. This year's "Git-R-Done" Award was presented to Lauren Laferla, Public Relations and Content Marketing Manager.
"I've seen this in Lauren several times already. She always takes a goal that appears out of reach, and then reaches it," said Elsasser, "She figures out a way to accomplish things that might seem difficult or impossible."
Congratulations to Chris, Jackie, and Lauren!